Terri Lipsey Scott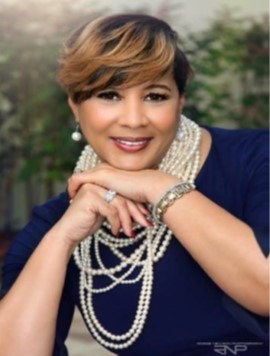 A native of Savannah, Georgia, Terri Lipsey Scott has been a resident of St. Petersburg since 1981. She is a retired city administrator having served the Office of the Mayor and City Council from 1987-2014.
Terri's civic engagement included memberships in the Junior League, Women of the Word, St. Petersburg Chapter of the Links, Inc., St. Petersburg Chapter of Delta Sigma Theta Sorority, Inc., ALPHA HOUSE, SPC Women on the Way, First Night, Colours of Culture, One City Chorus, and the Association of African American Museums.
Mrs. Lipsey Scott has served on local boards to include Aids Services Association of Pinellas, St. Petersburg Branch of the NAACP, Co-Chair of Community Alliance, Convener of St. Petersburg Together, St. Petersburg College Women on the Way, Alpha House, the Dr. Carter G. Woodson African American History Museum, Pinellas County Commission appointment to Pinellas County Historic Commission, Mayoral appointment to St. Petersburg Housing Authority Board of Directors, City Council appointment to the City Charter Review Board, John Hopkins All Childrens Board of Directors, and the Community Foundation of Tampa Bay.
Terri is an alum of Savannah State University and Eckerd College and holds a B.S. degree with high honors in Business Administration. She is a graduate of the Leadership St. Pete Class of 2008 having served as the community project co-chair and visionary. She is currently the Executive Director of The Woodson African American Museum of Florida.
Terri has been acknowledged by several organizations namely the YWCA – Phenomenal Woman of the Year; Studio @ 620 - Studio Honors Award; The Gathering of Women – Woman of Distinction Award, SCLC Role Model of the Year, H.V. Jenkins High School "Hall of Fame," Watermark's "One of the Most Remarkable People of 2017" the Weekly Challenger's IMPACT AWARD, Power Broker Magazine's Women Who Slay, AT&T Black History Month Inaugural Statewide Calendar Honoree, Girls Scouts, Woman of Distinction, a recognized HISTORY MAKER, The Edge Magazine Celebration of Women 2021, and recognized in 2022 by American Stage Honors for outstanding community commitment and acknowledged by the Tampa Bay Times as People to Watch in 2022 to name a few. Terri's writing was published as the Foreword in the recently released Salt Creek Journal. Mrs. Lipsey Scott is the bride of 42 years to Clarence Scott, III; and mother of two adult children and two grandchildren.