About the Secretary
Secretary of State Cord Byrd
Secretary of State Cord Byrd was appointed by Governor Ron DeSantis as Florida's 37th Secretary of State.  Secretary Byrd has spent his life fighting to ensure the Constitution's promise of individual liberty, economic freedom, and limited government.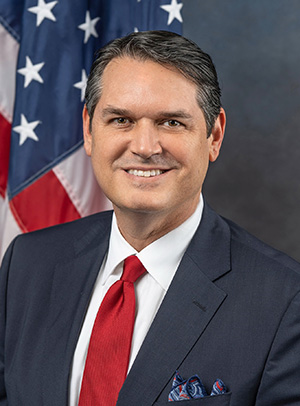 Secretary Byrd is a fifth generation Floridian and native of the Jacksonville Beaches. He resides in Neptune Beach with his wife, Esther, and children, Dominic, age 19, and Lexie, age 9.  He graduated from the University of North Florida and St. Thomas University School of Law.
Secretary Byrd was elected to the 11th District of the Florida House of Representatives in 2016 and was subsequently reelected in 2018 and in 2020.  During his entire tenure in the Florida House, Secretary Byrd served on the Public Integrity and Elections Committee, including two years as Vice Chairman. Secretary Byrd also chaired the State Redistricting Committee and served as Vice Chairman of the Judiciary Committee.
As head of the Department of State, Secretary Byrd brings an energetic approach to his wide array of duties. In his capacity as Florida's State Protocol Officer, he regularly welcomes Consuls General from around the globe to Florida's state capital. In 2022, he hosted international business and trade representatives to the Department of State Consular Corps Summit. As Florida's Chief Elections Officer, he implemented the Office of Election Crimes and Security which produced immediate results for election integrity. Additionally, he has visited all 67 county Supervisors of Elections prior to overseeing the successful administration of the 2022 General Election. In his role as Florida's Chief Arts and Culture Officer, he travels around the state to promote the arts and Florida's unique heritage.
Throughout his life, Secretary Byrd has served his community, State and Country by teaching at-risk youth at a public middle school, practicing law, speaking to civic groups about government and the Constitution, supporting veteran programs and helping immigrants become citizens.
Despite his busy schedule, Secretary Byrd still makes time for devotion, reading, hunting, fishing, and enjoying the outdoors with his family. Secretary Byrd and Esther grow their family spiritually at Christ Church Beaches.