Secretary of State Laurel M. Lee Designates Chattahoochee Main Street as the Florida Main Street Program of the Month
For Immediate Release
Friday, October 15, 2021
Secretary of State Laurel M. Lee Designates Chattahoochee Main Street as the Florida Main Street Program of the Month
TALLAHASSEE, Fla. –
Today, Secretary of State Laurel M. Lee announced that Chattahoochee Main Street has been designated the October 2021 Florida Main Street Program of the Month.
"Chattahoochee Main Street has shown incredible resilience and strength in response to natural and economic adversities," said Secretary Lee. "I would like to thank their staff, board members, and volunteers for their continued support of their local Main Street program. You are the force that keeps Chattahoochee moving towards an even better and brighter future."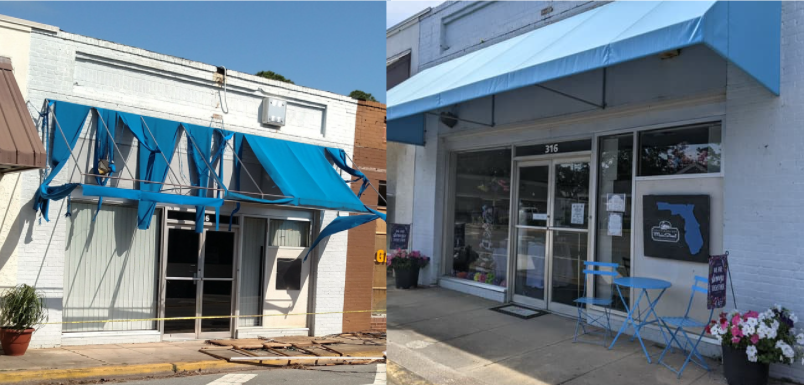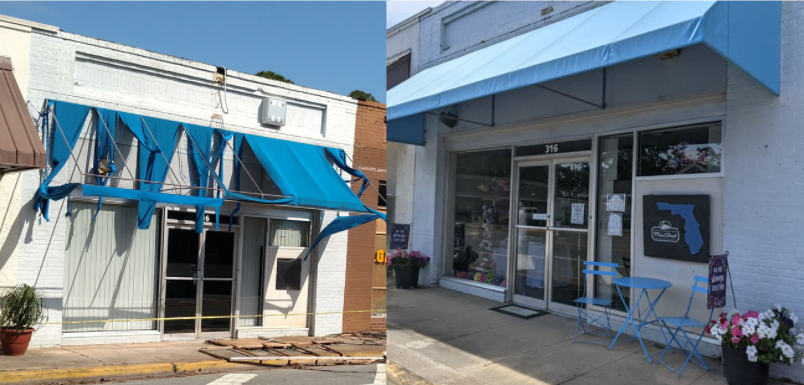 Left: Chattahoochee Main Street following Hurricane Michael's impact in 2018
Right: Chattahoochee Main Street's office today
Photographs courtesy of Chattahoochee Main Street
Chattahoochee Main Street was designated as a Florida Main Street community in 2013. Over the past eight years, Chattahoochee Main Street has been an integral player in revitalizing and preserving their district. Partnering with the City of Chattahoochee to facilitate a Strategic Community Vision Plan through the Florida Department of Economic Opportunity, Chattahoochee Main Street also completed two historic structure surveys, funded by the Florida Division of Historical Resources' Historic Preservation Grants Program, that assisted in the listing of the Chattahoochee Historic District on the National Register of Historic Places in September 2020.
Since 2013, Chattahoochee Main Street has reported approximately $933,466 in public and private reinvestments and welcomed nine net new businesses and 27 net new full-time and part-time jobs to the district. The organization has reported more than 18,226 volunteer hours.

For more information on Chattahoochee Main Street, visit ChattahoocheeMainStreet.com or Facebook.com/ChattahoocheeMainStreet. To learn more about the Florida Main Street program, visit FloridaMainStreet.com or Facebook.com/FloridaMainStreet.
###
About Florida Main Street
Florida Main Street is a program administered by the Division of Historical Resources under the Florida Department of State, which currently oversees 51 communities throughout the state. By implementing the National Main Street Center's Four-Point Approach, Florida Main Street encourages economic development within the context of historic preservation through the revitalization of Florida's downtowns – the community's heart and soul.