PRESS RELEASE: Florida Folklife Program Presents Harmonic Motion in Concert at Mission San Luis
For Immediate Release
Wednesday, October 19, 2022
PRESS RELEASE: Florida Folklife Program Presents Harmonic Motion in Concert at Mission San Luis
TALLAHASSEE, Fla. –
Secretary of State Cord Byrd and the Florida Folklife Program invite the public to a free performance of music and dance from across the Middle East at Mission San Luis on October 26th, 2022, from 7:30 to 9:00 p.m. This performance by South Florida ensemble Harmonic Motion is part of the 2022 Folklife Artist-in-Residence Program sponsored by the Florida Folklife Program and the Florida State University Center for Music of the Americas.
"We are pleased to welcome the public to this free performance for a night of music and dance," said Secretary of State Cord Byrd. "Harmonic Motion are award-winning artists and great ambassadors of Florida's diverse musical traditions."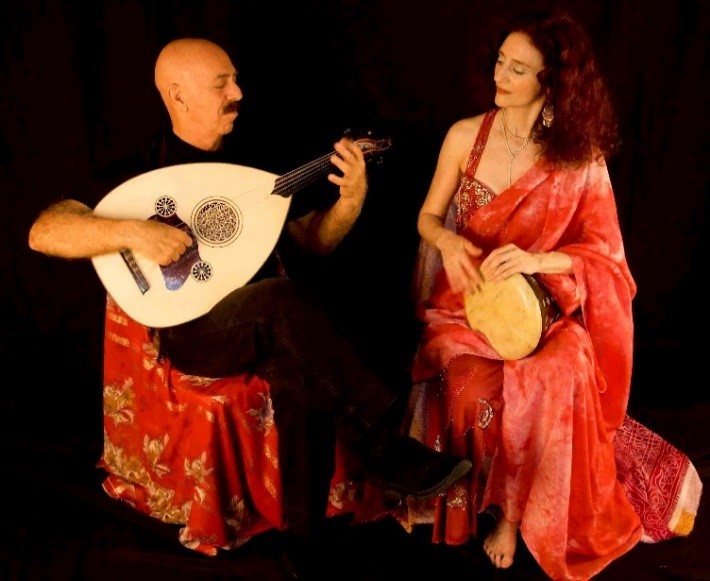 Harmonic Motion members Joe Zeytoonian (left) and Myriam Eli (right). Photo courtesy of Harmonic Motion.
Harmonic Motion is a non-profit arts organization based in south Florida that focuses on cross-cultural music, dance and folkloric projects. Directed by Florida Folklife Heritage Award winning oud player Joe Zeytoonian and internationally renowned dancer and percussionist Myriam Eli, the group produces and participates in workshops and performances of Middle Eastern music and dance including Armenian, Arabic, Sephardic, and Turkish traditions, as well as collaborations with jazz, avant-garde, modern, improvisational, flamenco, Indian, Balkan, African, Afro-Cuban, and other forms. They have performed extensively throughout Florida in addition to touring the United States, Latin America, Turkey, Japan and Europe.
This free public concert concludes a three-day residency in Tallahassee, in which Harmonic Motion will present Middle Eastern music and dance for students at local schools and for the broader community at Florida State University.
For more information about the residency and public activities, visit www.flheritage.com/Folklife.
###
About the Florida Department of State's Florida Folklife Program
The Florida Folklife Program, a component of the Florida Department of State's Division of Arts and Culture, documents and presents Florida's folklife, folklore and folk arts. The program coordinates a wide range of activities and projects designed to increase the awareness of Floridians and visitors alike about Florida's traditional culture. Established in 1979 by the legislature to document and present Florida folklife, the program is one of the oldest state folk arts programs in the nation. For more information visit www.flheritage.com/Folklife.
About the Division of Arts and Culture
The Florida Department of State's Division of Arts and Culture is Florida's legislatively designated state arts agency. The Division promotes the arts and culture as essential to quality of life for all Floridians. To achieve its mission, the Division funds and supports cultural programs that provide artistic excellence, diversity, education, access and economic vitality for Florida's communities. For more information, visit dos.myflorida.com/cultural.
About Mission San Luis
Florida's Apalachee-Spanish Living History Museum was the western capital of Spanish Florida from 1656 to 1704. Today, the Mission brings the early 1700s to life with living history interpreters in period dress, reconstructed period buildings, exhibits, and archaeological research. The site is managed by the Florida Department of State, Division of Historical Resources, Bureau of Archaeological Research, and support is provided by the Friends of Mission San Luis, Inc. Mission San Luis is Tallahassee's only National Historic Landmark. Mission San Luis is located at 2100 West Tennessee Street in Tallahassee, Florida, and is open Tuesday through Sunday from 10 a.m. to 4 p.m. Mission San Luis is pet-friendly to animals on leashes all year round. For more information visit www.missionsanluis.org.