Florida Department of State Launches Unsealed Podcast Focusing on the Department's Diverse and Unique Role in State Government
For Immediate Release
Monday, August 14, 2023
Florida Department of State Launches Unsealed Podcast Focusing on the Department's Diverse and Unique Role in State Government
Tallahassee, FL –
Florida Secretary of State Cord Byrd is pleased to introduce Unsealed, a new podcast by and about the Florida Department of State that highlights the work of the Department and emphasizes the many diverse aspects of its mission.
"The Unsealed podcast offers us the opportunity to bring attention to the great work being done in unexpected areas by the Department's talented staff," said Secretary of State Cord Byrd. "The public may not be aware of the many varied roles of the Department of State. In addition to managing our state's elections and corporations, Florida's historical and cultural resources and libraries also fall under the purview of the Secretary of State."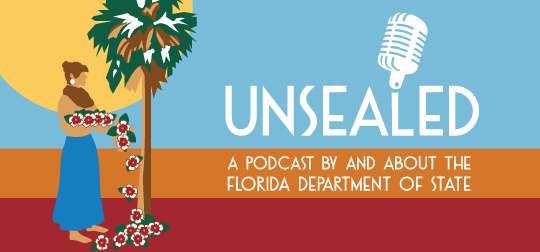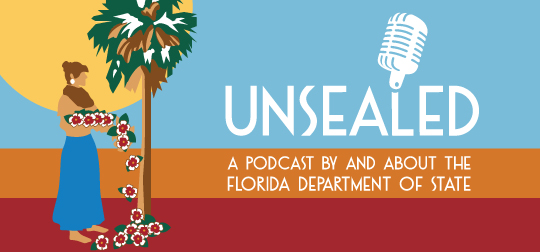 The Unsealed podcast features Secretary of State Cord Byrd in conversation with the various historians, scientists, subject matter experts, and others who make up the Department of State, and is hosted by the Department's Public Outreach Coordinator Elizabeth Johnson.
Each month, a new episode will feature a guest from the Department discussing their particular job or area of expertise. Archivists and librarians, archeologists and artists, curators, folklorists, historic preservationists, and more will share stories about the history of Florida and insights into their work within the Department on behalf of the people of Florida.
In the inaugural episode, "Keeper of the Seal" Secretary Byrd and Archives Historian Matthew Storey discuss the history of the Florida Department of State and the many different roles it plays in the state's government. Listeners will also learn how the office and position of Secretary of State has changed and evolved over time.
Unsealed will feature a new episode each month and is available on all podcast platforms. 
For more information, visit: DOS.MyFlorida.com/Unsealed.
###
About the Florida Department of State
The Department of State strives to improve the quality of life for all Floridians. We collect Florida's important public records and preserve its rich historical and cultural heritage for the benefit of generations to come. We interpret Florida's rich history and make it accessible to the public through our nationally recognized museums and historic sites. We help to promote economic development and create a competitive business climate for the state through our business-friendly corporate filing environment, grant programs that benefit all communities, enrichment of public libraries statewide, and support for events that attract tourism. We contribute to the establishment of a stable and open state government by providing access to information and protecting democracy through the oversight of fair and accurate elections. These services enhance Florida as a state and provide opportunities for our residents and visitors.