PRESS RELEASE: Secretary Byrd Designates Cocoa Beach Main Street as the Florida Main Street Program of the Month
For Immediate Release
Wednesday, April 12, 2023
PRESS RELEASE: Secretary Byrd Designates Cocoa Beach Main Street as the Florida Main Street Program of the Month
TALLAHASSEE, Fla. –
Today, Secretary of State Cord Byrd announced that Cocoa Beach Main Street Association, in Cocoa Beach, Brevard County, has been designated the April 2023 Florida Main Street Program of the Month.
"Every Florida Main Street has its own personality, created by community members past and present who contribute to its unique character," said Secretary Byrd. "From Florida's first people to some of the greatest minds of the space age, Cocoa Beach's history is reflected in the businesses and community members who support its dynamic historic downtown."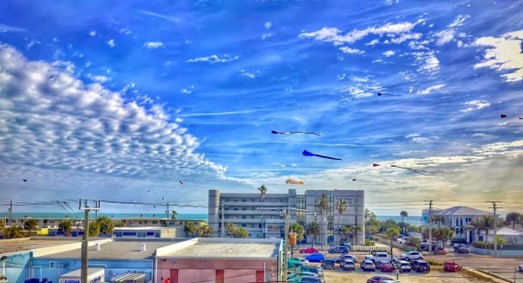 Scene from the Cocoa Beach Kite & Beach Fest
Photo courtesy Cocoa Beach Main Street Association, Inc.

Originally inhabited by Native peoples known to Europeans as the Ais, as well as other cultures, American settlement in Cocoa Beach and the surrounding area began after the Seminole Wars in the 1850s and 1860s. Early American settlers established agricultural and fishing operations along the shores of the Indian River Lagoon. By the early 1920s, a bridge connected the mainland to the barrier island. In 1925 citizens established the Town of Cocoa Beach. Substantial growth followed the arrival of the National Aeronautics and Space Administration (NASA), which began space program operations at Cape Canaveral in the late 1940s. Since that time, the region has been a hub for innovation and has become known around the world as Florida's Space Coast.
In 2014, citizens formed Cocoa Beach Main Street Association, Inc. (CBMSA), an independent 501(c)(3) nonprofit corporation, to help revitalize the historic downtown. Through their efforts to boost local businesses and preserve historic resources, Cocoa Beach has become a destination for residents and visitors of all ages. Using the Main Street Four-Point Approach, CBMSA helps downtown merchants by organizing events, hosting street clean-ups, and offering neighborly assistance with everything from a fresh coat of paint to pulling weeds.
Regular, monthly CBMSA events include Friday Fest, which brings people downtown to enjoy local shops and restaurants, live music, food trucks, and craft vendors on the Minutemen Causeway. Recently added special weekend events include the Space Coast Mural Fest, which began in September 2022, and led to the creation of several downtown murals. In January 2023, the Cocoa Beach Kite & Beach Fest, another new event, brought crowds out to the beach to watch giant kites soar above the sand and surf. Another popular annual event is WinterFest, complete with artificial snow, which is the only time you can have a snowball fight in Cocoa Beach! CBMSA is also active in broader community initiatives, such as the Cultural Greenspace Task Force, which aims to create spaces for everyone to enjoy.
Since 2014, Cocoa Beach Main Street Association has reported approximately $39,314,430 in public and private reinvestments and welcomed 49 net new businesses to the district. Volunteers have served over 8,786 hours to make their success possible.
For more information about Cocoa Beach Main Street Association, visit CocoaBeachMainStreet.org or follow them on Facebook and Instagram @CocoaBeachMainStreet.
To learn more about the Florida Main Street program, visit FloridaMainStreet.com or follow us on Facebook and Instagram @FloridaMainStreet. 
###
About Florida Main Street
Florida Main Street is a program administered by the Division of Historical Resources under the Florida Department of State, which currently oversees 57 communities throughout the state. By implementing the National Main Street Center's Four-Point Approach, Florida Main Street encourages economic development within the context of historic preservation through the revitalization of Florida's downtowns – the community's heart and soul.