PRESS RELEASE: Secretary Byrd Designates Ocala Main Street as the Florida Main Street Program of the Month
For Immediate Release
Thursday, July 13, 2023
PRESS RELEASE: Secretary Byrd Designates Ocala Main Street as the Florida Main Street Program of the Month
Tallahassee, FLA –
Today, Secretary of State Cord Byrd announced that Ocala Main Street, in Ocala, Marion County, has been designated the July 2023 Florida Main Street Program of the Month.
"Since its founding in 1985, Ocala Main Street has exemplified the ideals of a successful main street community," says Secretary Byrd. "I am very excited to showcase their success in revitalizing downtown Ocala during this year's upcoming Preservation on Main Street Conference."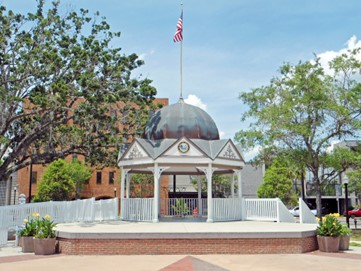 Picture courtesy of Ocala Main Street
Native Americans known as the Timucuan inhabited the area around Ocala at the time of first contact with Europeans in the 1500s. American settlement started with Fort King, which was built by the United States Army in the 1820s and was active during the Seminole Wars. Ocala was incorporated as a city in 1885. Agriculture based on small farms as well as plantations thrived in the mid- to late-1800s. Rail service reached Ocala in 1881, which completed a connection with Ocklawaha River and Silver River transportation, creating a thriving economic hub. Ocala faced tragedy during the height of its early economic development on Thanksgiving Day 1883 when a fire wiped out four blocks of the business district surrounding the Downtown Square. The burned-out wooden buildings were replaced by brick structures, and Ocala became known as the "Brick City" when construction was completed in 1888.
Historic Downtown Ocala developed into the center of community life where residents and visitors continue to enjoy an incredible variety of retail, dining, cultural and recreational options. As an independent 501(c)(3) nonprofit organization, Ocala Main Street, Inc. (OMS), is dedicated to creating a thriving, unique and livable downtown that enriches the community, embraces history, celebrates the arts, and promotes quality events to instill a sense of place in their community. OMS aims to support and enhance the continuing development of Downtown Ocala while protecting and promoting the city's history and heritage. Officially designated as one of the first five Main Street communities in Florida in 1985, OMS has since secured over $60 million in public and private investments, opened 153 businesses, created 280 sustainable jobs, and logged in over 3,500 volunteer hours.
OMS oversees many downtown civic and cultural activities, including historic walking tours and monthly 3rd Thursday Sip & Shop events. OMS also facilitates First Night Ocala, the signature annual event to celebrate New Year's Eve, as well as multiple creative initiatives such as advocating for the expansion of golf cart access into the business district, a pop-up retail incubator program called Lane on Main, and working with the City of Ocala to implement new branding for the three zones of the Ocala Main Street District.
"Our Main Street District is the heart of our community, and we are working to make Downtown Ocala exceptionally vibrant and economically successful," says Jessica Fieldhouse, Executive Director of Ocala Main Street. "We work in partnership with the City of Ocala, focusing on revitalizing the Community Redevelopment Area (CRA) that aligns with our district's geographic footprint. Our small businesses, art community, and physical assets create an atmosphere that celebrates the uniqueness our city has to offer and appeals to a new generation as they create authentic experiences. We are focused on maintaining our historic charm and character as we embrace the rapid growth our district is facing."
For more information on Ocala Main Street, visit OcalaMainStreet.org or follow them on Facebook and Instagram.
To learn more about the Florida Main Street program, visit FloridaMainStreet.com or follow us on Facebook and Instagram. 
###
About Florida Main Street
Florida Main Street is a program administered by the Division of Historical Resources under the Florida Department of State, which currently oversees 57 communities throughout the state. By implementing the National Main Street Center's Four-Point Approach, Florida Main Street encourages economic development within the context of historic preservation through the revitalization of Florida's downtowns—the community's heart and soul.