PRESS RELEASE: Secretary Byrd Designates Stuart Main Street as the Florida Main Street Program of the Month
For Immediate Release
Tuesday, March 14, 2023
PRESS RELEASE: Secretary Byrd Designates Stuart Main Street as the Florida Main Street Program of the Month
Tallahassee, Fla. –
Today, Secretary of State Cord Byrd announced that Stuart Main Street Association, in Stuart, Martin County, has been designated the March 2023 Florida Main Street Program of the Month.
"I am pleased to recognize Stuart Main Street Association as the Florida Main Street Program of the Month," said Secretary Byrd. "Stuart Main Street endeavors to maintain a sense of place and community connectivity that are vital to preserving local history and traditions. Dedicated to nurturing the next generation, they are blending an appreciation for the past with planning for the future."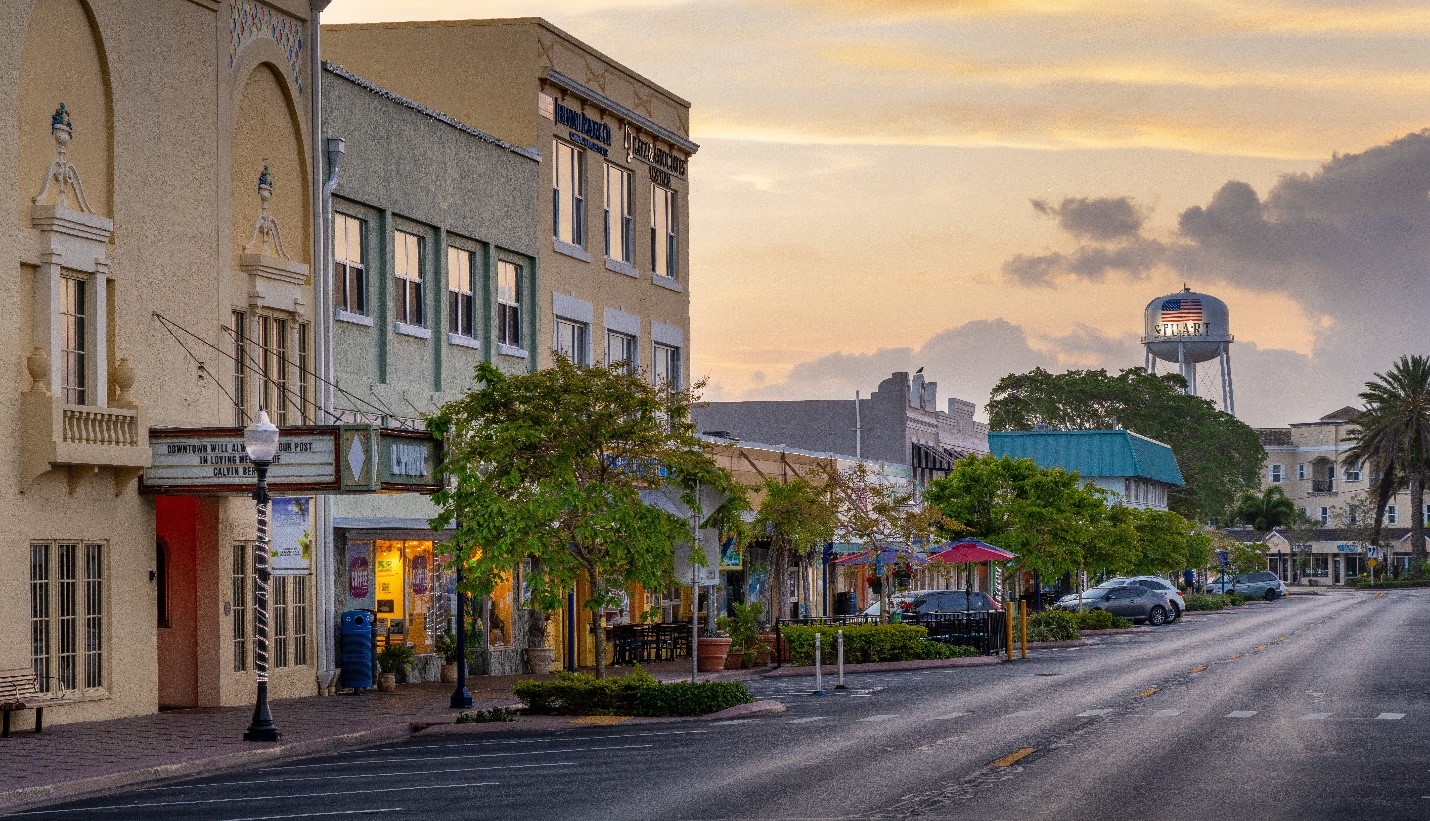 Photo courtesy of Stuart Main Street Association, Inc.
The City of Stuart was originally settled in 1870 and incorporated in 1914. Early settlers established farms and commercial fishing and benefited from the construction of Henry Flagler's East Coast Railroad through the area in the 1890s. Historic Downtown Stuart, located on the St. Lucie River, developed into a center for community life where residents and visitors enjoy an incredible variety of retail, dining, cultural, and recreational options.
As an independent 501(c)(3) nonprofit organization, Stuart Main Street Association, Inc., is dedicated to building and maintaining a vital downtown through community self-reliance and a focus on traditional assets: personal service, local ownership, unique architecture, and a sense of community. Stuart Main Street aims to revitalize the downtown area through preservation-based economic development and community revitalization, all while retaining their signature "Old Florida Charm."  Formed in 1987, the organization follows the Main Street Four-Point Approach, as established by the National Trust for Historic Preservation's National Main Street Center and practiced in over 1,200 communities across the country.
Stuart Main Street envisions a vibrant, sustainable Historic Downtown Stuart for residents, businesses, and visitors, acting as a center for community life for the surrounding area. It is home to an active spirit of civic pride and entrepreneurship, public and private sector cooperation, and the community's historical and cultural heritage. Through a shared vision, community leaders and businesses work together to identify transformative strategies. The overarching goal of Stuart Main Street is to align activities, so that community strengths are optimized to bring about revitalization with an emphasis on local engagement and empowerment.
Stuart Main Street oversees many downtown civic and cultural activities each week, including the Market on Main and Rock'n Riverwalk Concert Series. Market on Main is a weekly hometown farmer's market that features a novel "Kid's Market" twice a month, which allows the city's youngest entrepreneurs to showcase their homemade goods like baked items, locally grown produce, and handmade arts & crafts. Rock'n Riverwalk is a free outdoor concert occurring every Sunday that features local live music and vendors as an attraction to the downtown area. Stuart Main Street also facilitates signature annual events such as the Downtown Stuart Art Festival, Hobgoblins and Christmas on Main Street, Stuart Stroll, and Shopapalooza.
By managing the Historic Flagler Center, Stuart Main Street helps to preserve one of the City's greatest treasures. Built in 1943 as the original recreation center for U.S. Servicemen, the building now operates as a special event space for all types of events, such as weddings, birthdays, conferences, and community events, drawing visitors from far outside the community to downtown.
"Our Main Street program is the beating heart of not only our community, but also surrounding communities. Our small businesses, cultural resources and physical assets are the reason Stuart has become a destination for all," said Candace Callahan, Stuart Main Street's Executive Director. "We are focused on maintaining that small-town feel during the growing-pains our city is experiencing, while continuing to nurture an environment for new generations to discover the history and traditions for which Stuart is known."
Since 2007, Stuart Main Street Association has reported approximately $23,868,772 in public and private reinvestments and welcomed 137 net new businesses to the district. Volunteers have served over 14,815 hours to make their success possible.
For more information on Stuart Main Street Association, visit StuartMainStreet.org or follow them on Facebook and Instagram @StuartMainStreet.
To learn more about the Florida Main Street program, visit FloridaMainStreet.com or follow us on Facebook and Instagram @FloridaMainStreet. 
###
About Florida Main Street
Florida Main Street is a program administered by the Division of Historical Resources under the Florida Department of State, which currently oversees 57 communities throughout the state. By implementing the National Main Street Center's Four-Point Approach, Florida Main Street encourages economic development within the context of historic preservation through the revitalization of Florida's downtowns – the community's heart and soul.