PRESS RELEASE: Secretary Byrd Honors Historic Goldsboro Main Street
For Immediate Release
Monday, February 13, 2023
PRESS RELEASE: Secretary Byrd Honors Historic Goldsboro Main Street
TALLAHASSEE, Fla. –
Today, Secretary of State Cord Byrd announced that Historic Goldsboro Main Street has been recognized for its contribution to the State of Florida.
"It is important that communities realize their value, leverage their strengths, and build their future by preserving their past," said Secretary Byrd. "Historic Goldsboro Main Street is an excellent example of how the past can be used to create a stronger future."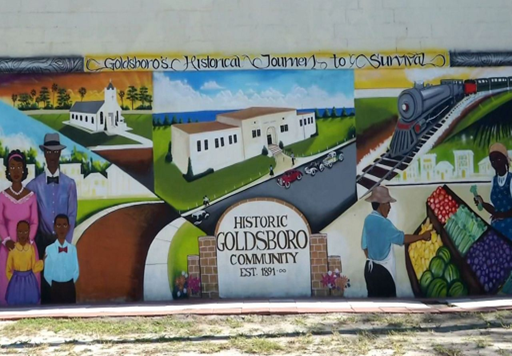 Photo courtesy of Historic Goldsboro Main Street
During the reconstruction era, the Freedmen's Bureau was established for Black Americans who worked at local railroad yards, farms, produce houses and ice houses. Goldsboro was settled as a Freedmen's Bureau community in 1870 and incorporated in 1891. It is the second oldest Black-founded community in the United States, being established only a few years after nearby Eatonville.
In 1891, residents of Goldsboro pursued incorporation of the town by publishing notices in the Sanford Journal as early as October 24, 1891. The town was incorporated at noon on December 1, 1891, by merchant William Clark and 19 Black registered voters. Walter Williams served as Goldsboro's first mayor until 1892. In 1900, the population of Goldsboro reached 71, and by 1905, the population had increased to 100 people.
The surrounding towns had also experienced growth, and on April 6, 1911, the Sanford City Council passed a resolution to annex Goldsboro. The Florida legislature passed the Sanford charter bill dissolving the incorporation of Sanford and Goldsboro and reorganized Sanford as a city that included Goldsboro within its boundaries. Goldsboro's identity slowly eroded after losing its charter. The City of Sanford renamed several of Goldsboro's historically named streets, further removing its founder's legacy. 
In 2011, the Goldsboro Museum opened at the site of the original Goldsboro post office and exhibits photographs, historic documents and furniture donated by residents. On February 28, 2013, Lake Avenue was renamed William Clark Avenue, to honor the town's founding father. In 2001, the Goldsboro Front Porch Council began with a mission to rebuild their neighborhood using asset-based, community-focused, and relationship-driven strategies. On June 1, 2012, the Goldsboro business district, located on 13th Street, was renamed Historic Goldsboro Boulevard, proving that revitalization is well on its way in the Goldsboro Community.
In November 2021, Historic Goldsboro Main Street was accepted into the Florida Main Street program. The program's goal is to utilize short-term strategies to create community pride and a sense of place, while developing more effective long-term strategies to help reestablish the business corridor. 
To learn more about the Florida Main Street program, visit FloridaMainStreet.com or Facebook.com/FloridaMainStreet.
###
About Florida Main Street
Florida Main Street is a program administered by the Division of Historical Resources under the Florida Department of State, which currently oversees 59 communities throughout the state. By implementing the National Main Street Center's Four-Point Approach, Florida Main Street encourages economic development within the context of historic preservation through the revitalization of Florida's downtowns – the community's heart and soul.