For Immediate Release
Friday, September 22, 2023
PRESS RELEASE: Florida Folklife Program Presents Lili Forbes in Concert at Mission San Luis
TALLAHASSEE, Fla. –
Secretary of State Cord Byrd and the Florida Folklife Program invite the public to a free performance of music and dance from across the Caribbean at Mission San Luis on October 13, 2023, from 7-9 p.m. This performance by St. Maarten born, Tallahassee-based singer-songwriter Lili Forbes is part of the 2023 Folklife Artist-in-Residence Program sponsored by the Florida Folklife Program and the Florida State University Center for Music of the Americas.
"We are pleased to welcome the public to this free performance for a night of Caribbean music," said Secretary of State Cord Byrd. "Lili Forbes is an accomplished musician and great ambassador of St. Maarten's diverse musical styles and traditions."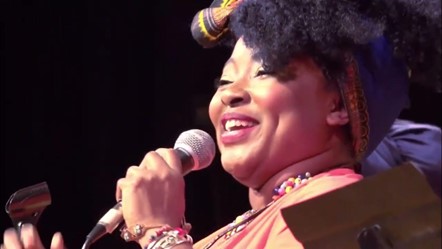 Lili Forbes performing at FAMU in 2023. Photo courtesy of Lili Forbes
About the Artist-In-Residence
Lililita "Lili" Johnson Forbes is a singer-songwriter based in Tallahassee. She was raised on the Caribbean Island of St. Maarten in the Dutch Antilles, splitting her time between there and Curaçao in her teenage years. She first came to Tallahassee to study Music Education and Theater at Florida A&M University. Lili has performed and recorded as Lyrical Lynn and recorded six albums with her sister Ilismo as the group "Jumelle" (formerly The Johnson Sisters), three of which were awarded Caribbean Gospel Music Marlin Awards. Furthermore, Forbes has performed with The FAMU Essential Theatre, the FSU Triple threat Theatre Troop, A&A Production and SOMO Play House. She produces FAMU's annual Sankofa Concert and has performed at the Florida Folk Festival.
Additionally, Lili is the Vice President of the Tallahassee-St. Maarten Foundation (TLH-SXM), an organization which seeks to promote peace and prosperity in both Tallahassee and its sister city St. Maarten. This is done through people-to-people relationships in both the public and private sectors via professional student exchanges, cultural and educational programs, and tourism. She is a founding member of the Essential Theatrical Artist (ETA) performance and mentoring organization and member of Sigma Alpha Iota Music Fraternity for women, Incorporated.
For more information about the residency and public activities, visit www.flheritage.com/Folklife.
###
About the Florida Department of State's Florida Folklife Program
The Florida Folklife Program, a component of the Florida Department of State's Division of Arts and Culture, documents and presents Florida's folklife, folklore and folk arts. The program coordinates a wide range of activities and projects designed to increase the awareness of Floridians and visitors alike about Florida's traditional culture. Established in 1979 by the legislature to document and present Florida folklife, the program is one of the oldest state folk arts programs in the nation. For more information visit www.flheritage.com/Folklife.
About the Division of Arts and Culture
The Florida Department of State's Division of Arts and Culture is Florida's legislatively designated state arts agency. The Division promotes the arts and culture as essential to the quality of life for all Floridians. To achieve its mission, the Division funds and supports cultural programs that provide artistic excellence, diversity, education, access, and economic vitality for Florida's communities. For more information, visit dos.myflorida.com/cultural.
About Mission San Luis
Florida's Apalachee-Spanish Living History Museum was the western capital of Spanish Florida from 1656 to 1704. Today, the Mission brings the early 1700s to life with living history interpreters in period dress, reconstructed period buildings, exhibits, and archaeological research. The site is managed by the Florida Department of State, Division of Historical Resources, Bureau of Archaeological Research, and support is provided by the Friends of Mission San Luis, Inc. Mission San Luis is Tallahassee's only National Historic Landmark. Mission San Luis is located at 2100 West Tennessee Street in Tallahassee, Florida, and is open Tuesday through Sunday from 10 a.m. to 4 p.m. Mission San Luis is pet-friendly to animals on leashes all year round. For more information visit www.missionsanluis.org.