Senator Geraldine F. Thompson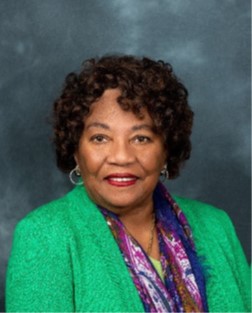 When Senator Geraldine F. Thompson was elected on November 6, 2018, she became the first female Democrat and person of color to serve Florida House District 44. Senator Thompson is now the Senator of Florida Senate District 15 in West Orange County, which includes Parramore, Pine Hills, Winter Garden, Ocoee, the Dr. Phillips area, Eatonville, Apopka, and Washington Shores.
After receiving an undergraduate degree from the University of Miami in 1970 and a Master of Science Degree from the Florida State University in 1973, Geraldine F. Thompson served for six years as an Orange County Public Schools teacher. She later served for 24 years as an administrator at Valencia Community College where she established the College Reach Out Program, which enabled thousands of low income and disadvantaged students to fulfill their dream of going to college.
Senator Thompson also developed a reputation as a respected historian for compiling the history of African Americans in Central Florida and authoring the book "Black America: Orlando, Florida". She led the campaign to preserve one of Orlando's unique landmarks, the Wells'Built Hotel which, during the days of segregation, provided lodging to some of America's most prominent citizens including Justice Thurgood Marshall. Today, that landmark is known as the Wells'Built Museum of African American History and Culture.
She served in the Florida House of Representatives from 2006 to 2012 and 2018 to 2022. She was elected to the Florida Senate in 2012 and served until 2016, and is currently serving as Senator to Senate District 15 in Orlando, FL. Significant legislation which she initiated and saw passed included bills to exonerate the Groveland Four, provide compensation to James Joseph Richardson, who was wrongfully incarcerated for 22 years, outlaw discrimination against pregnant women in the workplace, and a Specialty License Plate to benefit organizations that comprise the Divine Nine with eighty-five percent of the proceeds from the sale of the plate benefitting the organizations to support scholarships.
Geraldine F. Thompson was born in New Orleans, Louisiana, and grew up in the South Dade town of Perrine, Florida, where members of her family worked in agriculture and construction. She is married to the Honorable Emerson R. Thompson, Jr. She is the mother of three children (Laurise, Emerson III, and Elizabeth) and the proud grandmother of six. She enjoys reading and traveling.
Career highlights, honors, and awards include: Having roads designated for Bob Billingslea, July Perry, Edna Hargrett, and Bessie Coleman; Resolution for George Starke and exoneration of the Groveland Four; Recipient of the 2022-2  023 Humanitarian Award from the Orlando International Film Festival, 2021 Civil Rights Hall of Fame from City of Orlando, 2021 Outstanding Public Official Award from Healthy Start Coalition of Orange County, 2019 MLK Humanitarian Award from Central Florida Steppers, 2022 Warrior for Democracy Award from The League of Women's Voters, 2022 Mountain Top Trailblazer Award from Cultured Pearls of Alpha Kappa Alpha, 2018 Drum Major Social Justice Award from Alpha Pi Alpha Fraternity Inc., 2016 Legislative Advocacy Award from Democratic Women's Club of Florida Inc., 2013 Mary Hatwood Human and Civil Rights Award from the National Education Association, 2012 Martin Luther King Jr. Achievement Award from Inter-Civic Council of the Southern Christian Leadership Council, 1996 Commitment to Excellence Award from Mid-Florida Chapter of NFBPA, 1992 Summit Award from the Women's Source Center, and Life Time Achievement Award from the Metropolitan Orlando Urban League.