Folk Heritage Awards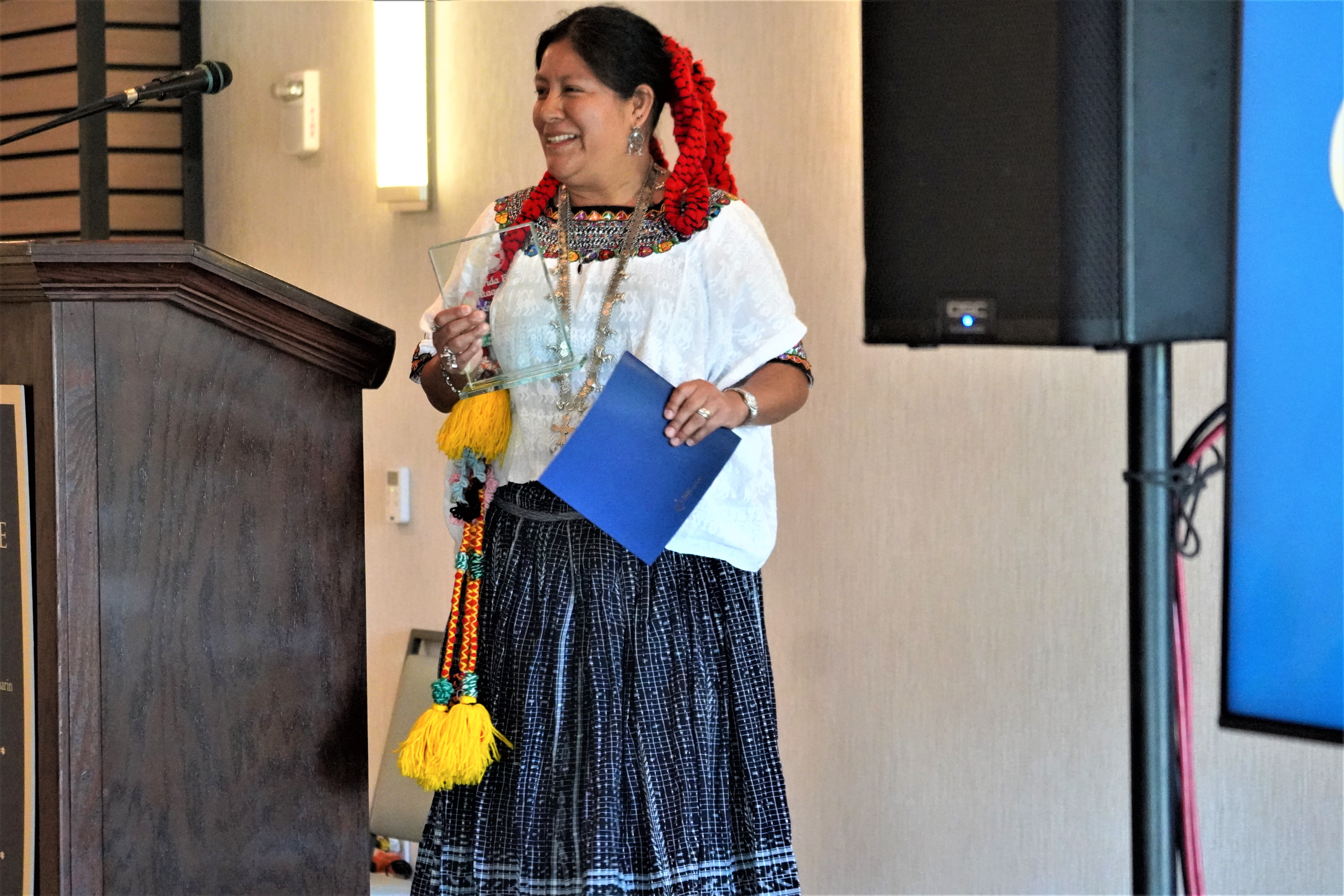 Concepción Poou Coy Tharin accepting her 2023 Folk Heritage Award.
Photo Credit: Mark Ard
Accepting Nominations
Deadline: November 1st, 2023
Before submitting a nomination, contact the Florida Folklife Program:
[email protected]
About the Award
Florida Folk Heritage Awards recognize outstanding stewardship of Florida's living traditions. Based on public nominations, these awards are annually presented to folk artists and folklife advocates who have made long-standing contributions to the preservation of Florida traditional arts and culture. Established in 1985, the program is modeled after the National Heritage Fellowships. Florida Folk Heritage Awards honor individuals whose knowledge of and efforts on behalf of Florida folk arts, folklore and folklife have advanced the appreciation and conservation of Florida's dynamic folk cultural heritage. Florida Folk Heritage Awards carry no financial reward, but are intended to be honorific expressions of gratitude for exemplary contributions to the state. 
How to Make A Nomination
The works of the individuals must be worthy of state recognition and relate directly to the long-standing, intangible cultural resources, or folklife, of the state. Individuals may be nominated in the category of folk artist or folklife advocate. Those interested in making a nomination are encouraged to review past awardees and contact staff at [email protected] to discuss eligibility and guidelines.  
To be nominated in the folk artists category, eligible nominees should be regarded as outstanding practitioners of traditional art forms, both within their cultural communities and beyond those communities. The criteria for evaluation are excellence, authenticity and significance within the particular artistic tradition.
To be nominated in the folklife advocate category, eligible nominees include cultural interpreters, community leaders and folklorists whose works have led to increased recognition, knowledge, aesthetic enjoyment and cultural understanding of Florida folklife. The criteria for evaluation are quality, impact and significance of a nominee's work to the folk traditions of the state.
Nominations should include:
Nomination Form: First, please complete and submit this nomination form, which includes basic information about the nominee and the nominator.


Nomination Letter: A letter that thoroughly describes the biography and accomplishments of the nominee as they relate to folk and traditional arts maintained and practiced in Florida. This letter should specify the category for which the individual is being nominated, and include contextual information on the folk traditions represented by the nominee. The letter should be addressed to: Florida Folklife Council. 
Letters of Support: Two to five letters of support from community members, colleagues, peers, cultural specialists or other individuals who can confirm and attest the nominee's qualifications for the award. Letters should be addressed to: Florida Folklife Council. 


Work Samples and Support Materials: Five to ten exemplary samples of the nominee's work including photos, audio and video recordings, press clippings, performance programs, flyers, web links or other forms of documentation. All audio and video recordings should not exceed 10 minutes in total length.
Email or mail the nomination package each year by November 1 to:
Florida Folklife Program
Division of Arts and Culture
500 South Bronough Street
Tallahassee, Florida 32399
Review & Selection Process
Nominations will be reviewed and ranked by the Florida Folklife Council. Those with the highest scores will be recommended for designation by the Secretary of State. Winners will be notified after the recommendations have been approved. Nominees who are not selected for the award, but scored above the threshold will be automatically reconsidered the following year, however updated letters and support materials should be submitted.
Presentation
Recipients will be invited to a special award reception where the Florida Folklife Council and representatives from the Florida Department of State will present their award.